At Libre Interior Design, we're passionate about bringing you the latest trends and
innovations in interior design. In this blog post, we're excited to showcase the
remarkable achievements and offerings of Designflooring, a leading vinyl flooring
company that has been making waves in the European market since its founding in
2004.
About Designflooring
Founded in 2004, Designflooring has swiftly risen to prominence as one of Europe's
premier vinyl flooring companies. With a strong commitment to customer satisfaction,
Designflooring has continuously evolved its technology, expanded its design portfolio,
and grown its dedicated team. Their mission has remained unwavering: to craft
exquisite floors that impeccably capture the intricate beauty of wood and stone,
combining practicality and aesthetics seamlessly.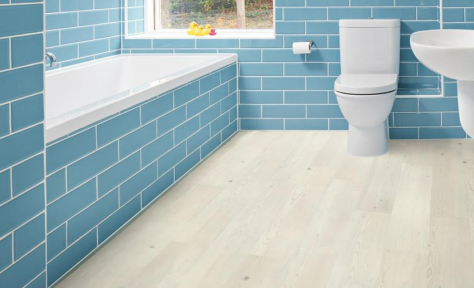 Quality and Environmental Responsibility
Designflooring takes its environmental responsibilities seriously. With a distribution
center situated in Homburg, Germany, spanning over 200,000m², they uphold a
remarkable 99.9% stock holding capability, ensuring your orders are complete and
punctual. All products are manufactured according to ISO 9001 standards, and the
company has an ISO 14001 certification for its environmentally conscious
manufacturing processes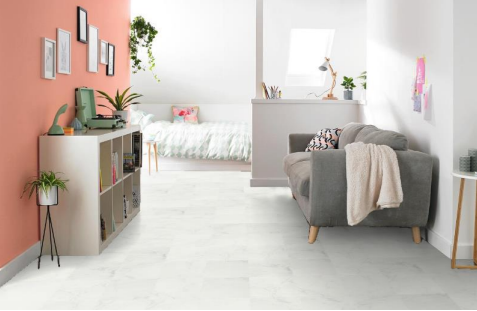 Innovative Sustainability
At Designflooring, sustainability is a core focus. Their dedication to environmental
friendliness shines through in every aspect of their products. By incorporating up to
50% recycled material from post-production waste, Designflooring manages to
minimize its ecological footprint. This commitment to sustainability is further
emphasized by their flooring's Environmental Product Declaration, which evaluates
factors like global warming, ozone depletion, and fossil fuel depletion.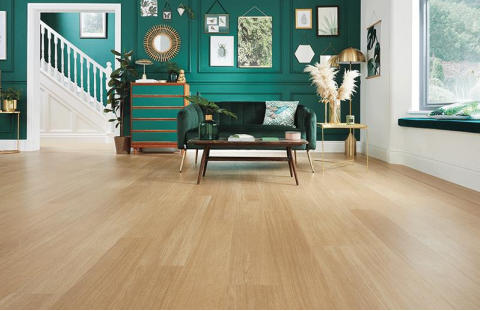 Exceptional Features and Benefits
Designflooring's remarkable qualities that set them apart from the rest:
Durability: Enjoy the look and feel of natural materials without compromising
on longevity. Designflooring offers the durability and resilience of luxury vinyl
K-Guard+ Surface Technology: Say goodbye to scuffs and stains.
Designflooring's K-Guard+ technology ensures surfaces remain pristine,
eliminating the need for additional treatments.
Guarantee: Rest easy knowing that Designflooring products come with a
commercial guarantee of 10-17 years, depending on the range chosen.
Realistic Designs: Inspired by nature, Designflooring's in-house designs
expertly replicate the textures and aesthetics of wood and stone.
Waterproof: Unlike traditional alternatives, Designflooring is impervious to
water, making it perfect for kitchens and bathrooms.
Hygienic and Low Maintenance: Designed to repel dust, dirt, pollen, and
allergens, Designflooring also features cleaning products that effectively
eliminate germs.
Acoustic Qualities: Enjoy quieter surroundings with Designflooring's acoustic
qualities, ideal for commercial and residential spaces alike.
Recyclable: Upholding environmental standards, Designflooring products are
100% recyclable and environmentally friendly.
Compatible with Underfloor Heating: Experience added warmth with
Designflooring's compatibility with underfloor heating systems.
Slip Resistance: Prioritize safety with Designflooring's slip-resistant surfaces,
ideal for busy environments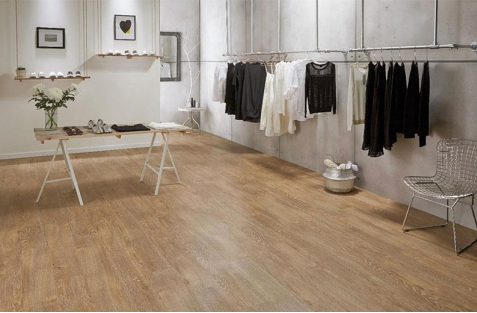 For more information about Designflooring and their wide range of options, including
product designs and specifications, visit their website at www.designflooring.com.
Please note that all information in this blog post is based on the details provided about
Designflooring up to September 2021